Wasp Nest Removal Melbourne
Wasps play different roles depending on the weather. However, their activities are at their peak during the hotter months. Be it indoors or outdoors, dealing with wasp infestations can be a year-round challenge, causing disruptions for homes and businesses in Melbourne. Every year, these pesky insects take over properties across the city, creating a significant nuisance. Don't worry if you're facing a wasp problem – our expert Wasp Nest Removal Melbourne team is here to help. You can reach us at 03 8592 4758 or fill out the form above to receive an instant quote for comprehensive wasp control services.
If you are facing a wasp infestation at your residence or workplace, it's best to leave the job to our professionals. At Wasp Control Melbourne, we employ eco-friendly methods and safe products to ensure a wasp-free property. We understand the urgency of such situations and respond promptly and take swift action to eliminate these stinging insects from your premises thoroughly.
Contact us today to book your appointment
Some Key Facts About Wasps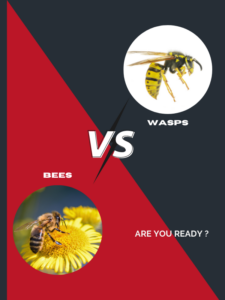 Difference Between Wasps And Bees:
Types Of Wasp Species Found In Melbourne
European wasps are about 12 – 17 mm and  too stout with bright yellow-black bands on their abdomen and a pair of black spots on yellow bands. These aggressive stingers are opportunistic predators and scavengers that eat dead animals, live insects, processed pet & human food, fruits, etc.
Yellow Jackets (Social Wasp)
Also called as social wasps, yellow jackets have yellow-black heads and patterned abdomen resembling stripes. They can sting multiple times, causing swelling, pain and allergic reactions to people who are sensitive to this venom. They feed on insects, spiders and human food.
This type of wasp features two black antennae and two pairs of wings with the first pair larger than the second pair. They fly around by bringing their legs close to their body.
Native paper wasps have small heads with medium sized eyes and antennae. They have a slender body, narrow waist and yellow/orange bands on their abdomen. Adults feed on nectar, but they look for caterpillars to feed their larvae.
Many sand wasps are black with yellow, white or green markings on their body. They build their nests in the ground. Adult wasps feed on nectar but they hunt for flies and insects to feed their larvae. Their stings can be painful but not as aggressive as the stings of the European wasps.
Mud nesting wasps come in several colours and sizes, but found mostly in black or black & orange combinations. They have very long slender abdomen, which is why they are called thread-waisted wasps.
White-Faced Brown Paper Wasp
These medium-sized paper wasps are reddish brown in colour with creamy white face and thin white rings on their waist, abdomen and shoulder. They usually build their nests on trees, rocks, caves and under bridges.
These wasps are bright dark brown in colour with six yellow spots on thorax, yellow dot at the wing base and wide yellow band on abdominal segments. This species of wasps nest in the hollows of living trees.
Request a no-obligation Free Quote
This kind of nests house ground-digging wasps and are commonly found in business buildings and around homes.
This kind of nest houses European paper wasps and Asian giant hornets. They are usually found close to the gutters of homes or commercial buildings. They can also be seen on the steps of a porch or on a tree branch.
This kind of nest is built using mud. They are small and tubular in size, found typically in crevices and cracks.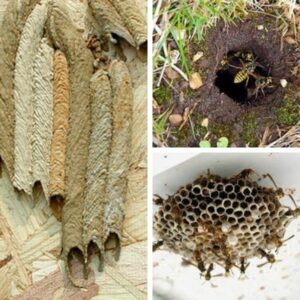 Where To Look For The Wasp Nest?
If you realise that there has been an increase in the number of wasps flying around your home, then it is obvious that there is a wasp nest somewhere around your property. As wasps cover up their nests within wall voids or roof spaces, it can be difficult to spot them. Some of the places that you can look for the wasp nests, include:
The exterminators at Wasp Control Melbourne understand that your number one priority is to ensure that your home or business is completely wasp-free. We also realise that you want to protect your family from adverse health problems caused by toxic products. When it comes to wasp control in Melbourne, we are committed to using only low-risk, toxic-free products to effectively eliminate the wasp problems and reduce the adverse effects for you and the environment. 
All of our exterminators are highly trained professionals and are committed to delivering excellent service to our customers. With decades of experience and up-to-date training, we find the root of your wasp problem and solve it for you. We provide rapid response and provide customised wasp control solutions that are tailored to fit individual needs. 
So, if you notice any wasp nest in or near your property, don't wait to call Wasp Control Melbourne. Let's provide a proven solution for your wasp control needs.
"Nick's service was without fault. I was very impressed with his prompt service and professionalism in eradicating my wasp infestation. Thankyou Nick. I rate and recommend them highly."
"Had a wasps nest in the corner of my extension of our Buckingham shire home. Wasps Control Melbourne came and resolved the problem first time"
Frequently Asked Questions (FAQ's)