Wasp Removal Yarrambat
For safe and effective wasp removal in Yarrambat – trust your go-to source for professional wasp removal in Yarrambat. We are a team of highly trained and experienced pest control experts who specialize in the safe and humane removal of wasp nests from residential and commercial properties. Whether you have wasp nests at home or business area, we can remove wasp nests from all inaccessible areas and ensure long-term protection from wasp invasions.
Wasp Nest Removal In Yarrambat
Our wasp nest removal service is designed to rid your property of wasps and their nests quickly and effectively. We use the latest tools and techniques to locate and remove all wasp nests from your property, ensuring that your home or business is safe and secure. We have state-of-the-art equipment, including protective gear, specialised insecticides, and tools that allow us to remove wasp nests from even the most hard-to-reach areas. We take great care to ensure that the entire nest is removed, preventing any future infestations.
Why Choose Wasps Control Melbourne?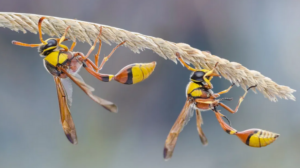 We are a fully licensed and insured pest control company, meaning you can trust us to deliver safe and efficient wasp removal services.
As we are eco-friendly, we only use and recommend humane methods to remove wasp nests, ensuring the safety of your family and pets.
Our team of experts is highly trained and experienced, meaning we have the skills and knowledge to handle any wasp infestation, no matter how severe.
We understand that each wasp infestation is unique, which is why we offer a comprehensive inspection service to identify the extent of the infestation and determine the most effective treatment plan
Our team of experts will conduct a thorough inspection of your property to locate all wasp nests and assess the severity of the infestation.
We are also available 24/7 to help you any time of day or night for emergency wasp removal services. If you need professional and effective wasp removal services in Yarrambat, look no further than Wasps Control Melbourne. For home inspections, call 03 9021 3738 today.